coming activities
april 28


america and russia,
trump and putin


Tulsa is fortunate to be the home of one of America's premier experts on Russia. Dr. Robert Donaldson, former President of the University of Tulsa, holds a PhD from Harvard where he specialized in Russian studies. This talk will survey US-Russian relations, as well as the personal relationship between Trump and Putin.


The luncheon program will begin at 12:00pm on Friday, April 28, and will be held in Founders Hall in the Learning Center on the OU-Tulsa campus at 41st and Yale. A luncheon buffet
will be available for $1 (yes, one dollar!).
T he buffet line will open at 11:30am.
Reservations are required and may be made by calling Denise at 918-660-3494, or by email to dldavis@ou.edu.

may 11


my love affair
with the english language


Tulsa's beloved Connie Cronley will present a talk on writing and writers and the English language. For many years, Connie has been one of our city's most noted personalities and her presentations are always received enthusiastically.


This will be a luncheon talk that will begin at 12:00pm in the Faculty Lounge in the OU-Tulsa Main Academic Building. Reservations are required and may be made by calling Denise at 918-660-3494.

may


the view from across the rio bravo


Following the Center Director's visit to northern Mexico in April to lecture on Mexican American relations, he will provide a report on the perspectives he finds among Mexican academics and grassroots political leaders on the growing tensions between our two countries.


Location, date, and time to be announced.

june 8 and 9


sovereignty symposium


The 30th annual Sovereignty Symposium will be held in Oklahoma City. The Center Director has been invited to speak on issues facing indigenous peoples in South America. The talk will contrast the approaches taken by different South American countries towards relations with native populations, and he will discuss how these different from policies in the United States.



For a schedule of Sovereignty Symposium activities, as well as registration information, please visit the Symposium's website at http://www.thesovereigntysymposium.com

june 9


celebration of
the queen's official birthday


The Center for Studies and Democracy and Culture hosts the Honorary British Consulate in Oklahoma. The Queen's Official Birthday is the national day for the United Kingdom and will be celebrated in Tulsa with a reception and performance of British songs by noted Tulsa singer Lindsey McKee, a native of England.



The event will be held from 4:00pm till 5:30pm on Friday, June 9 at Harwelden, 2210 South Main, Tulsa. Limited seating is available. There is no charge for attending, but reservations are
required and may be made
by calling Denise at 918-660-3494.


september 18


Constitution Day


The Center will agin take the lead for Constitution Day activities in 2017 at OU-Tulsa. In addition to a luncheon talk about "America in the Time of the Constitution" by Center Director Rodger Randle, the Center has prepared a webpage with self-study options to learn more about the Constitution.
Click here for the Center's Constitution Day website.



Lunch will begin at noon on Monday, September 18, Room 1J10 in the OU-Tulsa Main Academic Building. Reservations are required and may be made by calling Denise at 918-660-3494, or by email to dldavis@ou.edu.



recent past events



17 y 18 de abril


américa y méxico
en la época de trump


Prof. Rodger Randle, Director del Centro, con estudiantes del Instituto Tecnológico de Monterrey en Nuevo León y dio una conferencia abierta al publico en el Colegio de Tamaulipas en la Ciudad Victoria sobre el futuro de relaciones entre los dos países vecinos: ¿Lo que significará la política de Trump hacia México de verdad?
(en español, sin traducción al inglés)

april 4


the outlook for afghanistan


The Hon. Hamudullah Mohib, Ambassador to the United States from Afghanistan, was the Center's guest for a luncheon talk that was attended by over 200 guests on the OU-Tulsa campus. The ambassador discussed the current situation in Afghanistan and the outlook for future peace and stability. A dinner was organized by the Center for the following day in Norman for OU faculty and dignitaries.

march 30


great decisions


The "Great Decisions" group that meets at St. John's Episcopal Church welcomed Center Director Rodger Randle for a presentation on the current political situation in South America, as well as relations between Latin America and the United States

february 20


report from brazil


Floriano Filho, journalist with Radio Senado in Brasília, Brazil, was the Center's guest on February 20 for a talk on current political and economic developments in Latin America's largest country. A luncheon event was held at OU-Tulsa.


february 14


report from scotland


The Rt. Hon. Henry McLeish, former member of the British Parliament and former member and First Minister in the Scottish Parliament, was a guest of the Center on February 14. His talk discussed Brexit, Scottish independence, and developments in British American relations since Trump assumed the US presidency.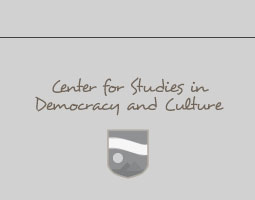 Our programs and activities are open to everyone in the community.
We sponsor speakers and organize other activities designed to engage citizens in issues of contemporary importance.
We would love to add you to our invitation list.
Please contact Denise at 918-660-3494, or by email at dldavis@ou.edu



the ou center for studies
in democracy and culture
is the home of the

honorary british consulate

in oklahoma



contact us

Prof. Rodger A. Randle, Director
OU-Tulsa, 4503 East 41st Street, Tulsa, Oklahoma 74135
Telephone: 1-918-660-3495; E-mail: randle@ou.edu